The Day The Phones Came to Wallkill NY

by
Elaine Weed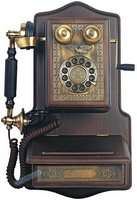 In 1918 the "Crank" telephones were installed in the Borden mansion and all the other buidings on the farm. The lines ran to the Borden Home Farm Office where the system could be connected with the Walden Telephone Company in Walden. This information was in the 1967 Newburgh Evening Newspaper. According to the "Shawangunk Hearths" all the phones at the Broden Home Farm were dial phones.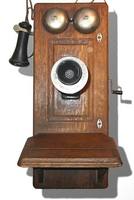 Shortly after that date, Telephone Party lines were brought into Wallkill. The switchboard for the crank phones was installed in an apartment over Masten (Dolan) store. Mrs. Gertrude C. Terwilliger and Marie Terwilliger were the operators.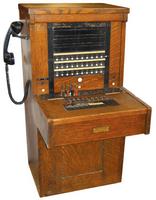 Granddaughters Regina DePuy and Elaine Terwilliger Weed remember being with their Grandmother where Regina would sit on Aunt Marie's lap and push some of the "plugs" into the holes to make contact with the party who had cranked in and other people would listen in as it was a three party line. Do not know when the switchboard ceased being up there. Grandmother passed away in 1929.
Alan White recalls remodeling that apartment a several decades ago and finding the coils of wire for the switchboard behind the walls. The wires were on the South side of the building where they were connected to the outside of the house.
--------------------------------------------------------------
History of Telephone Switchboards <click>
The Dial is added and no crank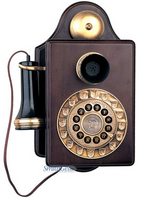 The dial phone leaves the wall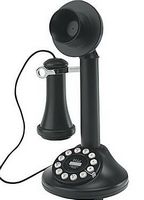 Rotary Dial of the 1960's