Historical Society of Shawangunk & Gardiner
2013 Programs and Society Information
Town Hall Community Room - All meetings will be held in the Community Room
Free to all - Light Refreshments Served

Wednesday: March 6, 2013 at 7:00 pm Shawangunk Town Hall
The Barberie Patent 1709
PowerPoint Presentation by Matthew Thorenz of the Wallkill Public Library
He will be show how the Patent came into being by discussing:
The political factionalism that existed in New York in the late 17th century
The Glorious Revolution in England and its affects on the government of New York
The demand for military stores to help aid Britain in fighting "The War for Spanish Succession", or Queen Anne's War.
Wednesday: April 3, 2013 at 7:00 pm Shawangunk Town Hall
History of DuBois Land and House in Wallkill 1759 - 2000
Land Patents of Shawangunk
Land purchased by Andries DuBois - 300 acres
Maps from 1775, 1780 & 1790 showing houses, roads and bridges
Banks Bridge that crossed the Wallkill
Dendrochronology of DuBois House (age of Wooden Beams)
Owners of the DuBois House and land
Historical Society of Shawangunk and Gardiner plans for the house

Presentation by Harold Van Aken of the Historical Society of Shawangunk and Gardiner
Sunday: May 5, 2013 - WIN-WIN Auction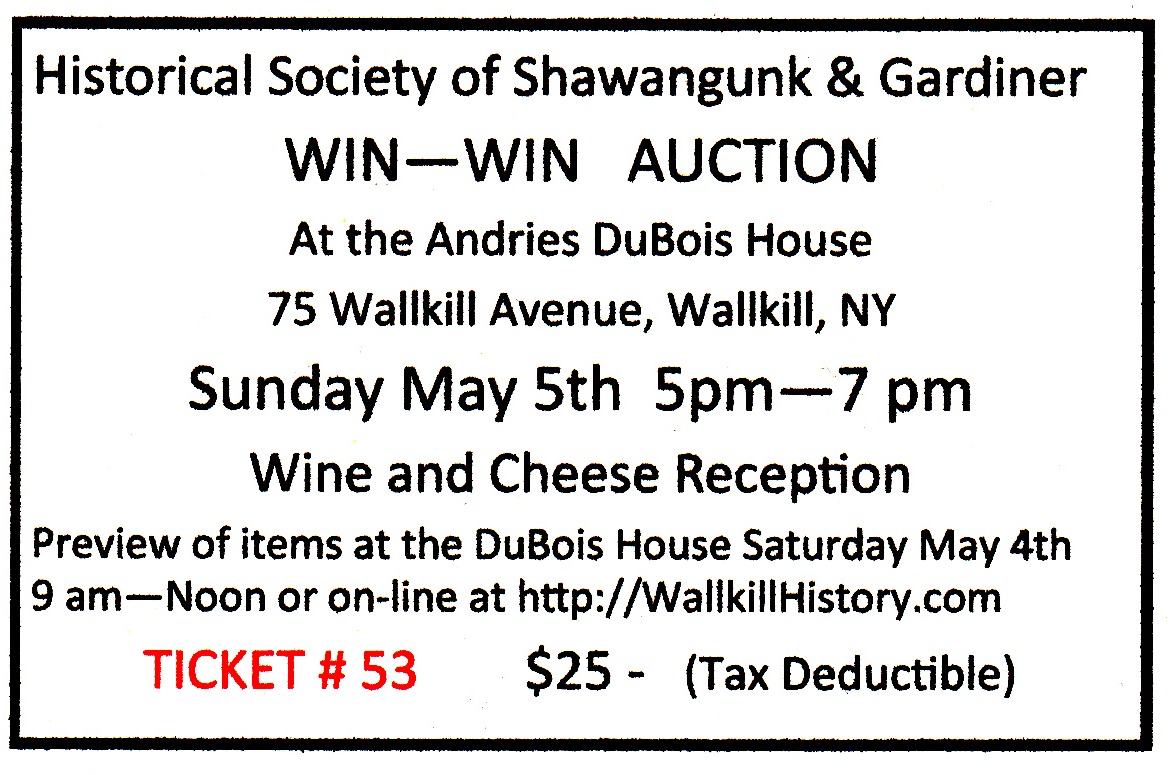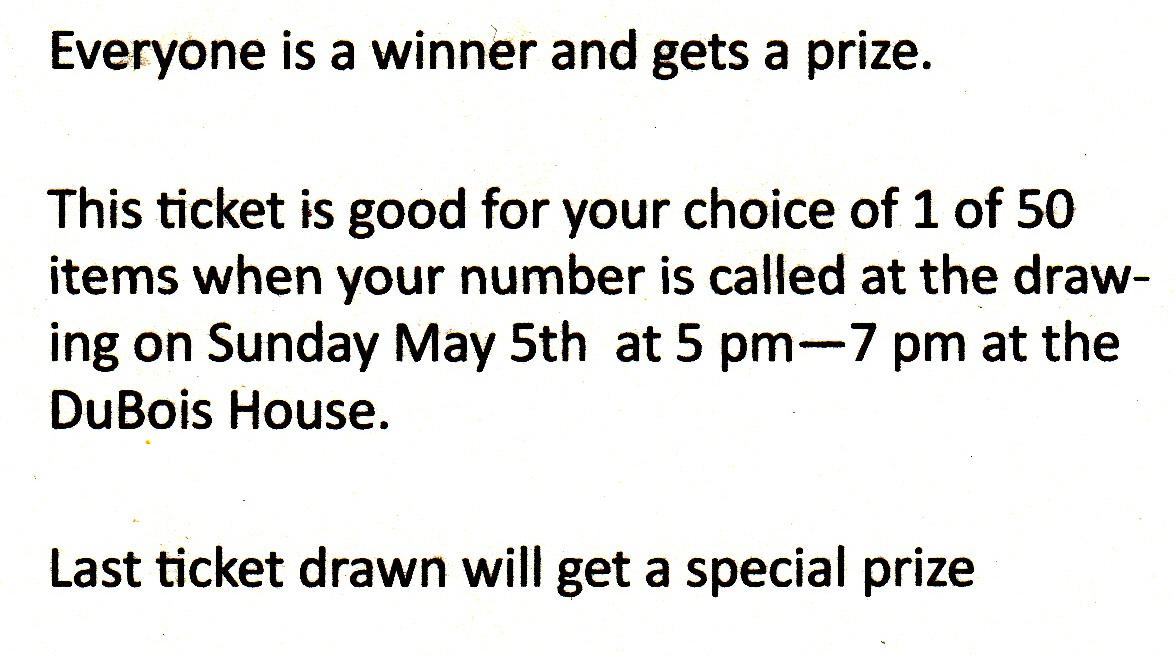 For Tickets contact Freda Fenn - 845-895-3986
Monday: May 6, 2013 at 7:00 PM Gardiner Town Hall

"Wicked Ulster County"

Book Review
Presented by Adam Schenkman - A teacher at the John G. Borden School
Wednesday: June 5, 2013 at 6:00 PM at the DuBois House

Picnic on the lawn of the DuBois House

Bring your own pot luck dish and table settings
Fall Programs
Wednesday: September 4, 2013 at 7:00 pm
Care and Preservation of Archival Documents:
· Gertrude Hutchinson (RN MA MSIS) from the Terwilliger
Association will talk on collections and how to preserve and display them.
· She is an archivist and nurse historian of the Foundation of NYS Nurses
September 28, 2013 9AM to 4PM

Borden Day:
· Meet at the John G Borden middle school for the bus to the Borden Farm
· Buses will leave at 9, 10, 11 AM & 1 & 2 PM
· Buses will return from the Borden Farm to the Middle School at 10:30, 11:30, 12:30 & 2:30 & 3:45 PM
· Tickets Adult $5, Children under 12 are free
· Display at the Gail Borden Office—Alex Hoyt
· Talk on the History of Borden Farm by Rodney Thompson
· Self-guided tour of the Borden mansion and grounds
· Displays in the Long Barn
· Wagon Rides by Richard Hoyt. $5 adults and children under 12 free. Children under 12 must be accompanied by an adult
~~~~~~~~~~~~ .. ~~~~~~~~~~~~

· Borden Day Brunch/Lunch can be purchased at the Wallkill Reformed Church from 10AM to 2PM
45 Bridge Street in Wallkill
* DuBois House will be open from noon to 1 PM
Wednesday: October 2, 2013 at 7:00 pm
The VIN FIZ—First Coast to Coast Flight in 1911
· The beginning of aviation
· DVD presentation narrated by Ed and Linden Dubin
· Display of related items
<![if !vml]><![endif]>
<![if !vml]>
<![endif]>
Wednesday: November 6, 2013 at 7:00 pm
Historical Society of Shawangunk & Gardiner- the meeting will be held at 7 PM at the Shawangunk Town Hall Community Room at 14 Central Ave, Wallkill,
Memories and Mementos of WWII
Stories and presentation By Freda Fenn, Gil McCord & George Lowe
Bring your own memories and mementos to share
Open to the public. No charge to attend. Refreshments served.
Visit the Historical Society website at http://WallkillHistory.com for more information.
Harold Van Aken
845-895-3321
TEA: Saturday: November 9, 2013 at 2:00 PM
· TEA CANCELLED
Wednesday: December 4, 2013 at 6:00 PM
Wine, Cheese and Dessert at the DuBois House:
Located at 75 Wallkill Avenue, Wallkill
· Bring your favorite Hors d'oeuvres or dessert
· Music of past eras
· Bring your favorite records
· Wine and place settings will be provided
Officers
Co-Presidents - Carolyn Crowell & Toni Gagan

Vice President - Libby Ross

Recording Secretary - Doris Callan

Corresponding Secretary - Mary Lou Van Aken

Treasurer - Bob Mooney
Membership Dues for 2012:
$10 - Student
$20 - Individual
$30 - Family
$50 - Business
$50 - Supporting *
$100 - Patron *
$200 - Benefactor *
* Will be recognized in our newsletter
Trustees
| | |
| --- | --- |
| Member | Phone |
| Doris Callan | 744-2552 |
| Carolyn Crowell | 895-3933 |
| Stewart Crowell | 895-3933 |
| Freda Fenn | 895-3986 |
| Toni Gagan | 744-3357 |
| Carol LeFevre | 255-6468 |
| Jim Malloy | 892-2212 |
| Bob Mooney | 895-3188 |
| Libby Ross | 895-3049 |
| Harold Van Aken | 895-3321 |
Editorial Staff
Libby Ross

Bob Mooney

Freda Fenn

Doris Callan
Standing Committees
Programs and Education - Freda Fenn

Fund Raising - Trustees

Membership - Bob Mooney

Publicity - Harold Van Aken

Restoration / Building Maintenance - Bob Mooney

Finance - Suzanne Isaksen

Archives and Collections - Harold Van Aken

Publications - Libby Ross
Previous Years Programs