News Brief 2023-3-7
This is a presentation by the recently appointed Shawangunk Town Historian Kyle Williams and is the first of a series of Civil War Soldiers who joined the 156th in Shawangunk known as the "Mountain Men" of Ulster County.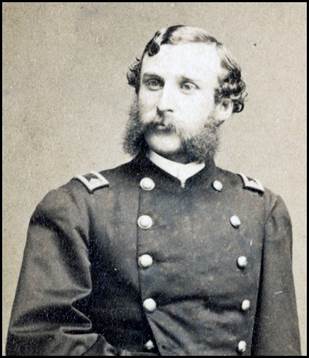 In 1833, Matthias S. Euen was born in New York City, and was the son of Dr. William Euen, a member of the firm Euen & Frye, whose father was a surgeon during the American Revolution and classmate of Aaron Burr.
Matthias attended grade school in Peekskill, he later joined the drug business with his brother, which he didn't find agreeable, then secured employment with Brooks Brother clothiers in New York City.  Prior to the outbreak of the Civil War, Matthias married Mary E. Rhinehart, who was born and lived in Bruynswick in the Town of Shawangunk. 
Mary came from a long line of Rhinehart's starting with:
· Great Grandfather Jacobus who was born in Germany and came to Bruynswick in Shawangunk and married Maria Decker in 1763.
· Mary's Grandfather Ephraim was born in Brunswick in 1774 and married Catherine Decker in 1797.
· Her Father Elias Rhinehart was born in 1798 and married Margaret Terwilliger in 1820 but she died likely in childbirth or disease at the age of 29. Elias married Maria Smedes in 1829 and gave birth to Mary Elizabeth in 1835.
· Mary and Matthas S Euen were married in 1855 in Bruynswick.
· The Euen family of New York City had a Summer Farm in Bruynswick and were likely neighbors to the Rhinehart Farm where he met his future wife.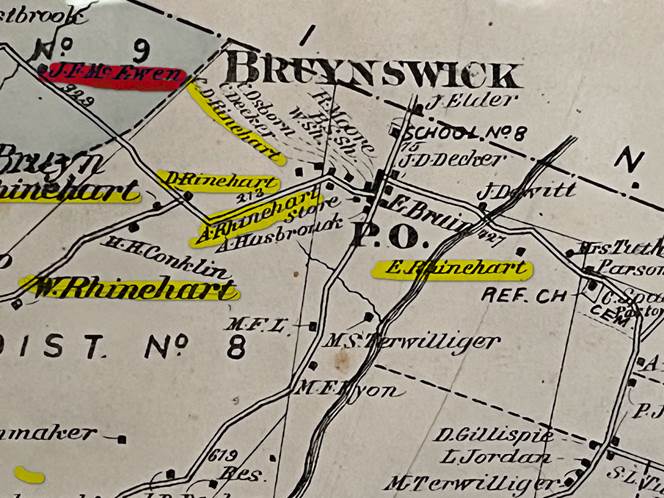 The 1975 Beers map of Shawangunk show many Rhinehart families. E. Rhinehart is likely to be Mary Elizabeth's father where she grew up and met Matthas at the Summer Farm.
.
The red shows a A.F. McEwen – is it possible this is a relative of the Euen's and the Summer Farm??
*******************
In 1862, after President Abraham Lincolns call for 300,000 volunteers, Mary influenced her husband to begin recruiting in Ulster County.
Matthias, a known charismatic public speaker, quickly enlisted a full-sized company of recruits from Shawangunk and surrounding regions.  He was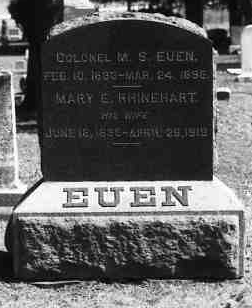 commissioned Captain of Company E, which was quickly incorporated into the growing 156th New York Volunteers - nicknamed 'Mountain Legion.' 
During the war, Matthias served in Louisiana and Virginia.  Fortunately, he survived unscathed through battles; Fort Bisland, Port Hudson, Third Winchester, and Cedar Creek.  In 1865, Matthias was Breveted Colonel for "meritorious service." 
After the war, Matthias returned to New York City to work for Brooks Brothers.  As his health began to decline, Matthias returned to his summer farm in Wallkill.  He passed away in 1898 at the age of 65. 
Matthias S. Euen is buried near his comrades at the Bruynswick Rural Cemetery.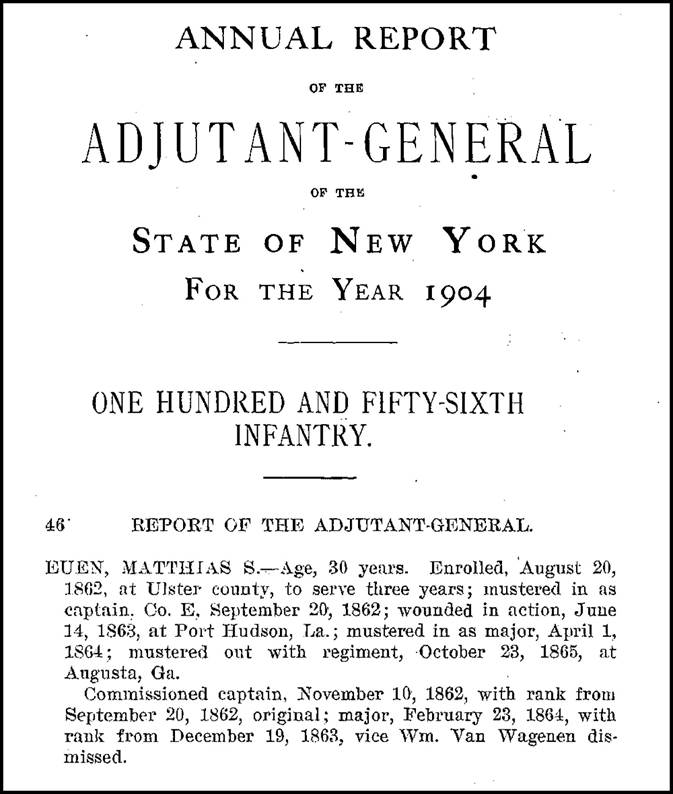 Contact:
Harold Van Aken
845-857-4057
or reply to this email